The Тeam
Nelly Naseva
Founder and Owner of Yoga Vibe
After working intensely in the corporate world for more than a decade, certified lawyer and MBA graduate, Nelly Naseva found yoga and meditation as a relief to her stressful life and busy mind. She is 500-hour Registered Yoga Teacher through Yoga Alliance. She teaches at international festivals and is dedicated to train future teachers.She teaches in a fun and light-hearted way, always aiming to make everyone on the mat happy and conscious about their body and inner well-being. Nelly truly believes that the practice of yoga makes us better people and is the best way to express love and gratitude. Her inspiration for teaching comes from the progress and growth of her students – both on the mat as physical and spiritual growth, and inner happiness.
Atanasya Jeleva - Nacy
Founder and Owner of Yoga Vibe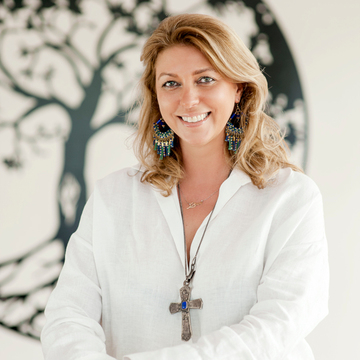 Nacy's life and professional career have always been intertwined with fashion and beauty. The Island of Bali is the place, which shifted her focus from the glamour of the commercial life to a path of spiritual excellence and better understanding of herself. Nacy spends more than three years there and experiences different spiritual practices, which develop her mind and body. Yoga and meditations are her way of finding the balance in her busy everyday life in order to feel fulfilled, loved and happy. Nacy wants to pass on this happiness and satisfaction to as many people as she can. This is how and why Yoga Vibe studio was born.
Violeta Dimitrova
Vio is one of those teachers who are perceived and presented as students. For her, the yoga practice is a constant search, research, and knowledge that must be available to everyone. The transmission of this knowledge has become a goal and a mission for Violeta and today she is fully committed to her development in the field. After many years of practice and training in several countries with well-established teachers, she build her own style of teaching the Vinyasa Flow style. Her classes are focused on the breath, the correct alignment of the body in the asanas, and the incorporation of the philosophy into practice. Vio believes that yoga practice is an experience that needs the teacher's support with personal attitude and attention to detail - expect to get exactly that in her classes.
Nadejda Kuyumdjieva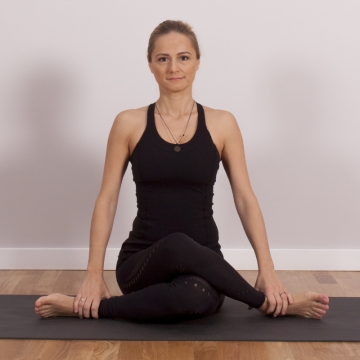 Nadya is a yoga instructor who has passed the 200 RT teacher training at the Yoga Alliance. Since 2016 she teaches Vinyasa flow yoga classes. She is also a dentist orthodontist with established own practice and thousands of clients. Her knowledge of anatomy and her medical education make her yoga classes special, with a lot of attention to detail, proper performance of the poses and the benefits of them.
Niya Koycheva
Niya is a professional coach and a yoga teacher since 2014. After meeting with her spiritual teacher Swami Niranjan, she has gone through numerous yoga trainings: YTT 200H at the Yoga Alliance, Yogic Studies Training 1, Hatha Yoga Training (India), Dhiyana - the art of teaching meditation, Developing human potential through yoga, Meditative. During her classes, Niya teaches different techniques of working with the mind and the awareness.
Gergana Nikolova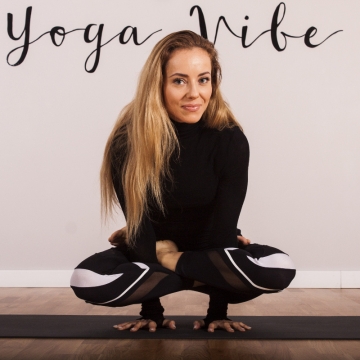 Gerry has been practicing yoga since 2015, teaching since 2016 and also she a wonderful artist! For her it's important to emphasize tha during each yoga journey it is good to leave expectations aside and to know that yoga is not a race. Gerry believes that regular yoga practice helps us to achieve a balance between tenacity, without violence and softness, without excessive relaxation. Once achieved, this balance leads to confidence and comfort in our physical and emotional relationships with others.
Elizabeth Gigova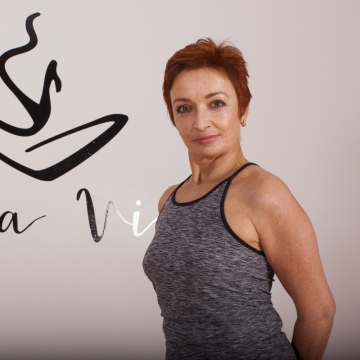 Elizabeth started yoga more than 22 years ago. India's sacrament has always attracted her, and after a bunch of books, the first trip to the East was a fact. Then one more, and naturally yoga became an integral part of her life. She is a pedagogue and a kinesitherapist by education. She has also completed several Chinese massage courses. With more than 15 years of experience in kinesitherapy, she is aware of the variety of healing effects that helps her work with patients. In her practices she uses techniques of healing gymnastics and hatha yoga.
Tsvetomir Tsvetanov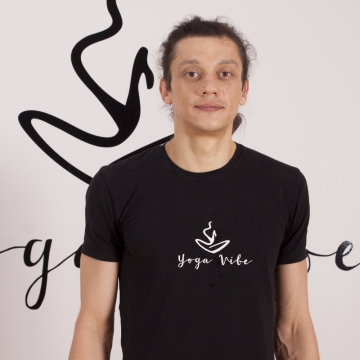 Tsetso was introduced to yoga 5 years ago, when he visited a Hatha yoga class for the first time. Impressed by the practice, yoga immediately became a permanent part of his life, while three years ago it also turned into a profession. His mission is to introduce his students to the various positives of the yoga practices for the body, but also to provoke them to evolve and to challenge them to progress by getting out of their comfort zone. His classes are dynamic and are very suitable for people who want to work on developing a strong physical body.
Valentina Emanuilova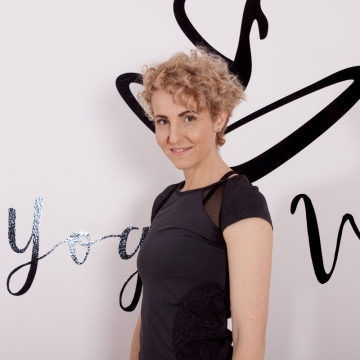 After more than 10 years of active movement, Valya finds the perfect balance between body and mind in yoga. She believes it's a movement back to yourself, a way to find yourself, then to get lost and find the rest. She is actively practicing since 2015 and also likes to experiement with different styles. She thinks that each style is different as emotion and gives you the opportunity to get to know each other in different ways - her favorite are vinyasa flow, Iyengar and acro yoga, because life is a game. If you go through the park and see someone in a handstand ... It's her! At Yoga Vibe you can practice with her different yoga classes.
Veneta Evtimova
Veneta has been practicing yoga since she was a teenager, but later her busy everyday life has distracted her from the practice. She returned to yoga again years later when she lost balance in her life and her health, and thanks to yoga she recovered and found her happiness and harmony again. Since then, yoga has become a daily routine for her, and she has deepened her knowledge in order to share it. She has been teaching yoga classes for more than a year, meanwhile she continues to study and build and improve her practice.
Hristina Mitovska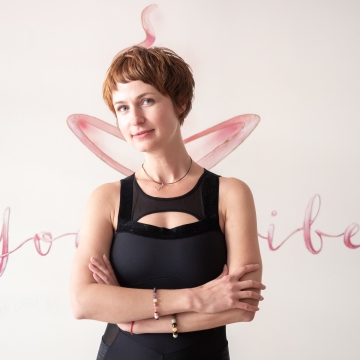 For Hrisi yoga is an inspiration and a path to deep personal transformation and happiness. Trained in Shivananda's system, and spiritually inspired by Satyananda Yoga, Hrisi will help you with a different, delicate yoga practice. In Yoga Vibe she teaches Yoga for Balance of the Emotions.
Margarita Maneva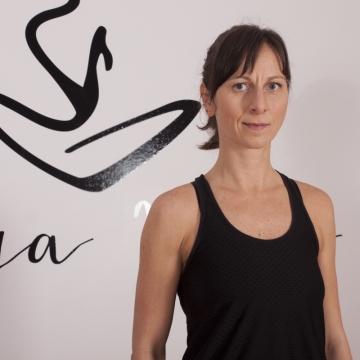 Attention to detail in asana, which is typical for Iyengar method, makes Margi's classes equally suited for beginners, as well as practitioners with experience. She participates in the first Iyengar teacher training that is taking part in Bulgaria. She mastered some of the most advanced arm balance asanas, and easily teaches their components to students of any levels. At Yoga Vibe, Margi teaches a specially designed class - Strength & Grace, named after her unique blend of skills like power and lightness in the practice. "During the eight years I have been practicing Ashtanga yoga, my practice became consistent and also an integral part of my life. Then I started searching for the logic of movements and deeper understanding of yoga. That led me to B.K.S.Iyengar's method, which reveals the essence of yoga by extremely precise and sophisticated, yet logical alignment of the body in each asana", she says.
Victoria Pekarchuk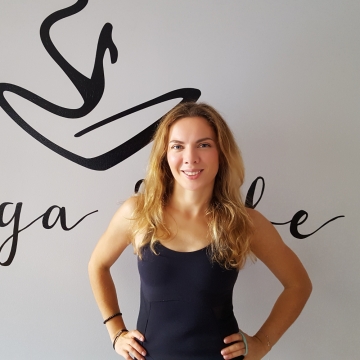 Victoria is a certified Yoga Teacher at the US Yoga Alliance from Ukraine. Her Hatha Yoga classes are applicable for both beginners and intermediate students, a class level is chosen according to the current needs of the practitioners. Each class includes asana, vinyasa, vyayama, basic pranayama, concentration and relaxation techniques, focused on the long-time holding in the postures. The important thing she pays attention to is safety and proper asana adjustment as well as support of healthy spine.
Tsvetelina Gigova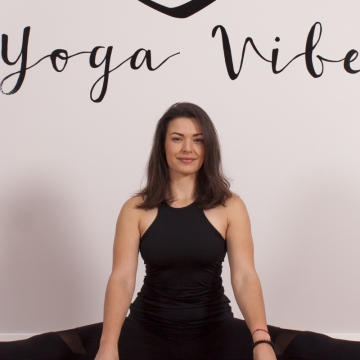 After 15 years of competitions and a bunch of National titles, Tsveti decided to diversify her sports activities. So she find yoga a few years ago and became a regular visitor in the hot yoga and vinyasa flow classes. She loves the challenges and more dynamic practices, so the handstands are her favorite part in every class. Earlier this year she was also certified as a Gymnastic Bodies athlete. She attended the classes of Dylan Werner, Daniel Scott, Cristie Christensen, Jules Mitchell and Annie Carpenter. In her own practices, Tsveti combines elements of yoga, gymnastics and ballet.
Aleksandra Masleva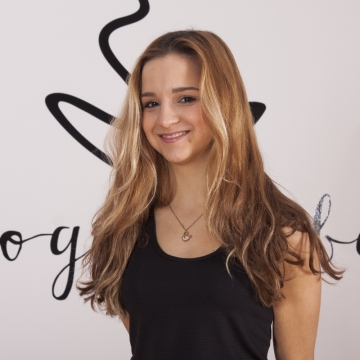 Alex has been doing sports gymnastics for 14 years now. She believes that gymnastics is the foundation of all sports - a combination of strength, flexibility, speed and mobility. Alex is a certified fitness instructor who works with both young children and adults. In gymnastics classes, she emphasizes basic exercises aimed at building strength, flexibility, mobility and coordination.
Stilian Stoianov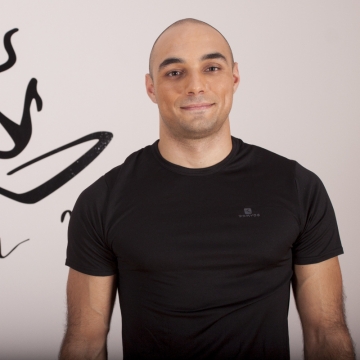 Stanley is a person who will take you one step forward in the benefit of athletic sport. From a child he starts practicing gymnastics and acrobatics. Over the years, sport has always been a part of his life. As a pilot and aviation engineer, he visits many places around the world, practicing various fighting sports, gymnastics, aero-yoga with diverse cultures and people. Because of this worldwide experience, he will approach you with great attitude and a mix of sports that contribute to your strength, mobility and body control. As a person who spends most of his time in the sky, he will try to bring your body and abilities to such a level.
Agnesh Kovach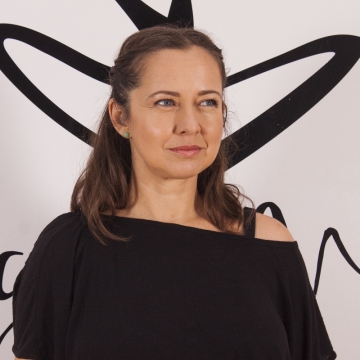 Agnesh has always believed in the unlimited human abilities. In 2003, she met her teacher who let her towards the path of Satyananda Yoga /Integral Yoga/ as well as her spiritual teachers Swami Satyananda and Swami Nirandanananda Saraswati who are her inspiration and inexhaustible source of knowledge. Thanks to the years of practice, Agnesh learnt how to find her tranquility, how to slow down, how to be here and now, and how to deepen her own self-knowledge and understanding of the human body and its capabilities. She sees the body as the matter that provides home for the soul, and this is the reason that provokes Agnesh to deepen her knowledge about therapy through yoga. At Yoga Vibe Sofia she teaches classical yoga with an integrated approach, and her class is suitable for all levels. Last but not least - Agnesh reminds us that, above all the power of yoga is in the regular practice that is tailored accordingly our individual needs.
Antonia Jivkova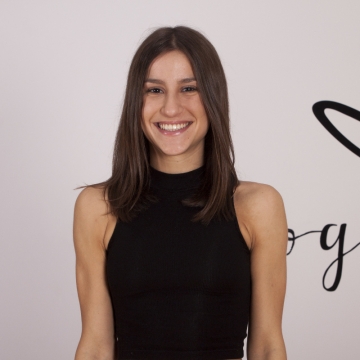 Tony is a psychologist and HIIT instructor (High Intensive Interval Training). Psychology is one of the main factors that made her realize the importance of the connection between the mind and the body. Tony believes that if we do not care for our bodies, it is very likely that we will also suffer emotionally, without even realizing the root cause of the unnatural emotions. HIIT trainings build muscles while burning fat and also speed up metabolism, even after the class the metabolic rate remains higher for hours. This type of workouts extends endurance, coordination, and even balance. Tony's mission is to help her students love their bodies and feel better.
Bistra Kopanarova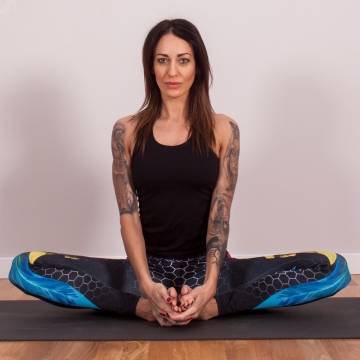 Bistra discovered yoga almost 5 years ago and today combines her dedication to practice, along with her other two passions - astrology and painting. She believes that yoga brings out the best of you. And according to her that's why we were born - to realize our greatest potential as much as possible. Additionally, Bistra is involved with fitness, cycling, horse riding, snowboarding, and climbing. She has just discovered water sports like surfing. She practices regularly yoga because for her it is a philosophy and a way of living.
Sandra Zaneva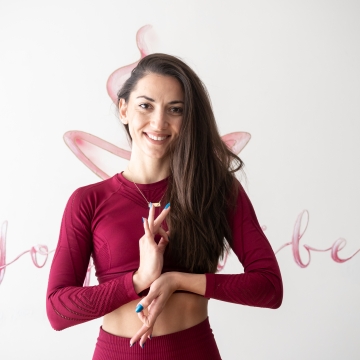 For Sandra yoga begins as a challenge for the body, the spirit and the mind, but later the practice becomes a much needed dependency that gives strength, energy, self-control and tranquility. She is a certified instructor by the Bulgarian Ashtanga Yoga Academy and she actively teaches since 2015. For her Ashtanga yoga is a source of perseverance, discipline and concentration, and Vinyasa Flow is the practice which allows creativity, beauty and diversity of movement. Her classes are dynamic and powerful. They are combination of movement through asanas while following the energetic flow of breath. Sandra's practices heat the body and it is highly unlike to leave her classes with dry clothes. Her inspiration to teach is fueled by the smiles and the gratitude of her students after each class. She believes yoga is a magical experience that helps us to build an extraordinary relationship with ourselves and the other people, while also becoming the best version of ourselves.
Gabriela Kostova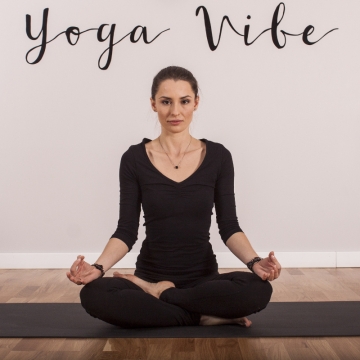 Gabriela has been practicing yoga since 1999. Yoga philosophy has captivated her with its depth and with the opportunities for development it reveals. The impact of yoga on the nervous system, on perception, and on the mind, provokes Gaby to strive for expanding her knowledge. Gaby teaches Hatha Yoga classes which are light and suited to anyone who has the aim and desire to get to know their body and mind better. As side effects of the regular practices with Gaby, her students can notice improvement in the physical, emotional, and mental health and well-being.
George Ranchev
George has been practicing yoga for four years, but his spiritual search has started way earlier. In the physical practice of yoga, he discovered a very meaningful perspective on how yoga asanas can affect our mind and emotions as well as how they can help us reach different self-awareness. Currently he enjoys teaching classes focused on physical strength and on reversed poses and balances. His classes are suitable for people who want to challenge and enhance their physical practice.
Katrin Petkova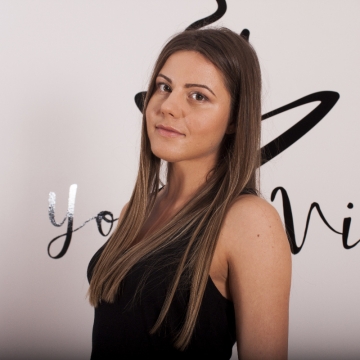 Katrin has been actively engaged in hatsha, vinyasa, ashanga yoga and meditations for 4 years and she is a certified Ashtanga yoga instructor at the Bulgarian Ashtanga Yoga Academy. She fell in love with yoga during her first practice and then adopts yoga philosophy as a lifestyle. For Katrin yoga is a meeting of the body and soul. In her classes, she strives to share everything she has learnt but above all to share the joy and the delight of the practice. The Yoga Flow class she teaches is an energetic class combining movement and stillness, while focusing on the breath and aiming to synchronize the soul and body through movement and breath. Each practice finished with meditation to relax the body, to quiet mind and to allow it to connect with the heart and. The class is suitable for everyone. In addition to yoga, Katrin studies Development Psychology, Astrology, Reiki, and she also works with children.
Nina Denina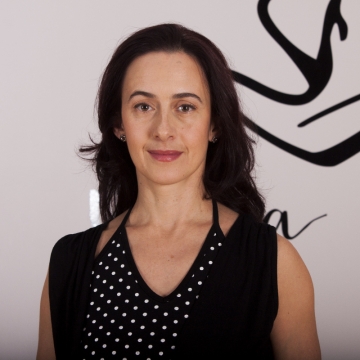 "Practicing yoga gives me the opportunity to explore my inner being and to express it through teaching," says Nina Denina. Through yoga, she discovers tranquility, harmony, acceptance and pleasure from the movement. That's why she wants to share the practice with more and more people and lead them towards these inner discoveries. Nina's mission is to incite people to discover and love themselves by starting from the love and care towards their body. She aims at showing her students the various opportunities the movement gives them, to help them learn to properly position their bodies and to show them how to move with pleasure. Because the stiff body stiffens the mind. Her classes are suitable for both beginners and practitioners. During her classes, she draws attention to the correct positioning of the body when performing yoga asanas as well as focuses on breathing while in movement and stillness.
Nora Pencheva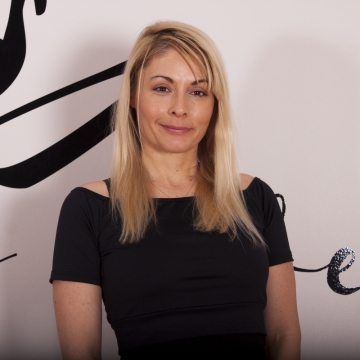 Nora has become acquainted with the philosophy of Yoga, still at the university where she graduated in Philosophy. Through years of pure theory, her interest has deepened and Yoga becomes her way of life. He has practiced Yoga for more than 10 years, believing that practice develops personality at every level: physical, mental, emotional, and spiritual. In June 2015 he graduated at NSA "Vasil Levski" as a licensed yoga teacher at the Bulgarian Yoga Federation. Sharing the belief that yoga is not just a way of life, it is a constructive transformative force that helps the individual's complete self-realization.
Rayna Cherneva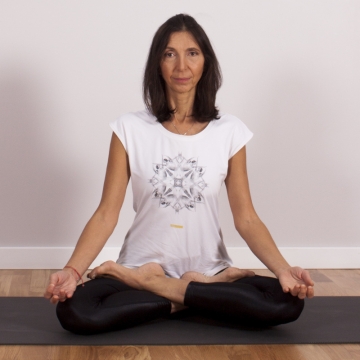 Rayna has practiced yoga for 15 years and she has been teaching for 10 years. She has gone through a number of trainings, workshops, seminars both in Bulgaria and abroad. Rayna graduated from the National Sports Academy, also studied Kundalini yoga at Guru Ratana, Ashtanga yoga with Irina Bachvarova and Mysore style in India. She practiced Satyananda Yoga with Alexandra Vukasinovich and at the Bulgarian Yoga Association. She loves to teach and inspire people for physical and spiritual perfection.
Svetla Ivanova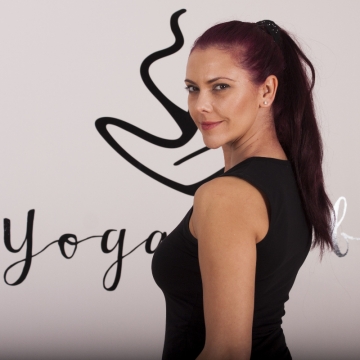 Besides being a singer and writer, Svetla Ivanova has practiced yoga for 25 years and for 6 years she has been a teacher. In her classes she combines classical hatha yoga with elements of ashtanga and vinyasa flow. As a typical artist, her every class is different and surprising. At Yoga Vibe East Svetla has two types of practices - Yoga for Pregnant and Yoga & Relaxation. Yoga for pregnant women is a practice dedicated to a more conscious and magical pregnancy, and is appropriate for women from the first to the last month of the pregnancy. At lunchtime, Svetla will immerse you in a beautiful practice called Yoga & Relaxation. This class combines long relaxation and recharging asana practice to lower the tension from the back, neck and shoulders and to refill you with new positive energy. Yoga & Relaxation has elements of gentle vinyasa, classic asanas, pranayama and relaxation, and is appropriate for all levels.
Vesela Petrova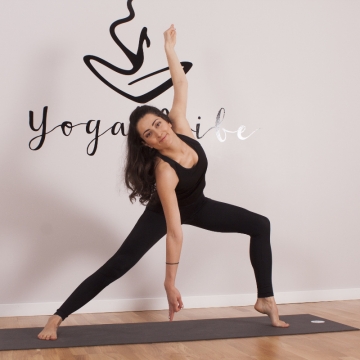 Vesela is a yoga instructor, a nutritionist and a health coach. "It is nice when someone takes care of you, especially if this someone is you." This is not only her motto, but also her life philosophy! She is combining her knowledge and experience as a nutritionist and a health coach with teaching yoga, which helps her to inspire people to go on the journey to getting to know themselves. Vesela has been practicing yoga for more than 7 years, as well as she has been gaining knowledge from teachers in Austria and Germany. Her classes include elements from different styles and techniques combined into a smooth vinyasa. The correct performance of the poses as well as the balance between strength and tenderness are the key to Vesela. For her yoga does not only happen on the mat, but also in life - it is a source of balance, inspiration and flexibility of the mind.
Konstantin Spaspov
Kosta is a Classic yoga and Vinyasa flow instructor. His students can expect a diverse and versatile practice with more retention in the poses and focus on the transitions between them. Kosta combines his passion for yoga with one for motorcycles as he believes the happiness is a journey and not a destination. If you want to cultivate strength, improve your flexibility and balance, Kosta will be happy to share his practice with you.
Lilly Goranova
Lily discovered yoga 5 years ago, while still working as a lawyer. For her, yoga is a wonderful way to motivate people through movement to rediscover their inner strength. Hence, Lily's classes are dynamic and challenging, but at the same time is aiming at achieving awareness of the movements. At Yoga Vibe studios Lily teaches Vinyasa Flow as well as mobility and gymnastics classes.
Polina Marynich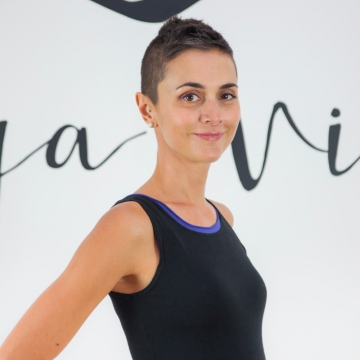 Polina Marinich is a certified Iyengar yoga teacher since 2011. She has been practicing this style of yoga since 2003. Polina has attended yoga teacher training courses at the Iyengar yoga center in Moscow and also regularly attends the Iyengar Yoga Institute in Pune, India, where she has been taught by S.B.K.Iyengar, Gita, Prasant and Abidjan Iyengar. Today she keeps developing her yoga knowledge and practice by attending workshops of leading international teachers. At Yoga Vibe Polly is teaching Iyengar yoga as well as Therapy yoga classes for back pain.
Eleonora Licheva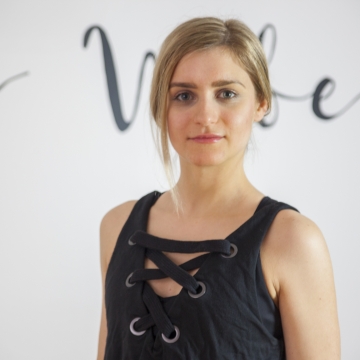 Eleonora has been practicing yoga since 2012 and has been teaching since 2017. She is RYT 200 Hour Ashtanga Yoga and Ashtanga Vinyasa certified teacher. Eleonora loves to challenge the capabilities of every visitor of her classes in order to make them feel that they have achieved something more than yesterday. In her practices, she emphasizes the importance of the combination of complete concentration and focus of mind, breathing and vision.
Dimitar Petrov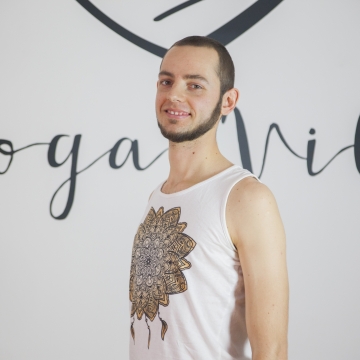 Dimitar has been practicing yoga for 6 years, and his mission is to introduce the depth of practice to his students, through teaching them the basic principles - such as physical alignment in the poses, connection with the breath and concentration. Dimitar sees yoga as an ancient method of reaching the true essence of man. In addition, the powerful integration of music and yoga is especially intriguing to him. He composes music under the name Man of No Ego, which can be heard during his classes.
Vanja Panamska
Today Vanja is devoted to Iyengar yoga and Hormone Yoga Therapy. She discovered yoga during a difficult time in her life and she immediately felt the amazing effects of this practice, not only on her body but also her mind, emotions and entire being. Then she started to practice Hormone Yoga Therapy, which has provided her with enormous benefits and she felt the need to share it with other women as well. As a result, she became a certified instructor of HYT under the personal guidance of its founder, Dinah Rodrigues. In addition, Vanja practices with great passion Iyengar yoga with Christos Pavlou and also is part of the teacher training at the Iyengar Yoga Institute in London, organized by the Iyengar Yoga Center Sofia. She continues to learn and practice and regularly attends workshops with leading international yoga teachers in Europe and in India.
​
Anastasia Manliher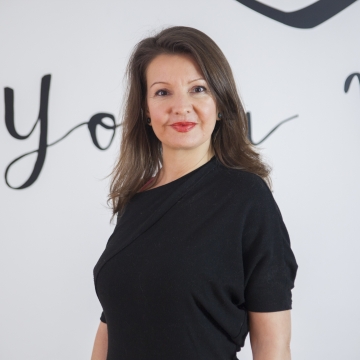 Anastasia Manliher is a psycho-somatic specialist. She develops motion routine for the health of back and bones, also she does stress-relief trainings and health routine for other parts of the body. Her bachelor degree is psycho-somatic discipline, during which she studies kinesiology and remedial gymnastics, anatomy and physiology, neurology, psychology and psychiatry. Now she successfully finishes her PhD program of Health Psychology in Sofia University.