Shaman Yoga - Connecting with Spiritual Guides
February 23, Sunday from 11:00 am at Yoga Vibe San Stefano Studio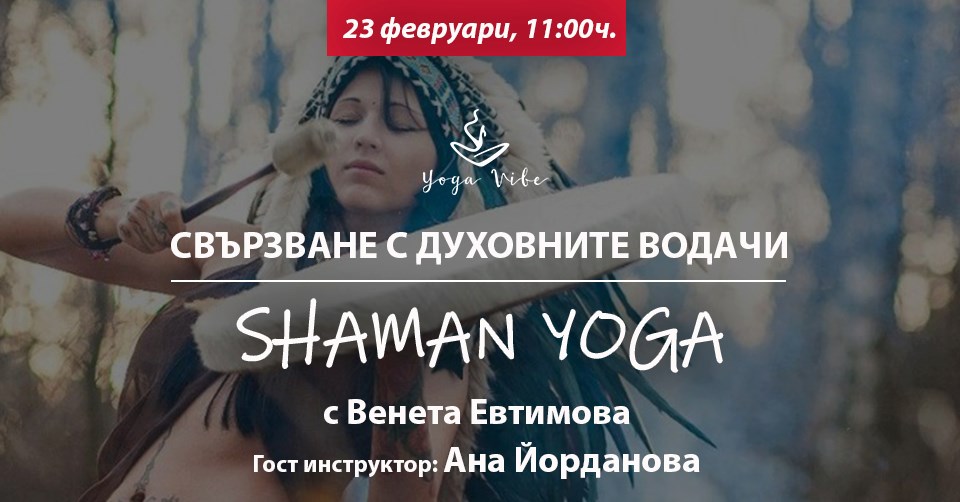 Shaman Yoga - Connecting with Spiritual Guides
February 23, Sunday from 11:00 am at Yoga Vibe San Stefano Studio


Shaman yoga is a practice of deep grounding, connecting to the energy of the earth and the primary strength of our roots.
Through yoga asanas, breathing techniques, mudras and mantras, we will consistently awaken the elements of earth, water and fire to guide us through the sacred portals of the shamanic journey and the connection with our spiritual guides.

What are we going to do:
- Yoga practice for awakening the elements of earth, water and fire
- A shamanic trip with the help of a dummy

For whom is the practice appropriate:
- For anyone who wants to contact their spiritual leaders and receive guidance from them on personal matters of any nature.
- The energy of personal spiritual leaders is extremely strong and connection with them can be a turning point and a pivotal moment in life.

Usually this is not immediately felt, but after such a meeting, wonderful and new things can happen to us that will lead us confidently along our life path. If we feel lost, unsure, out of place, hesitant, dissatisfied, such a meeting can inspire us with new personal strength and trigger unexpected events and encounters that reveal our mission and attract relatives and benevolent circumstances to us.
This practice combines yoga practice with the techniques of shamanic travel during relaxation - tapping, to introduce you to the theta and alpha states of brain waves. Tapping is a powerful tool for getting into theta and alpha brain waves and acts faster than other relaxation techniques - the rhythm connects to the heart and leads it. Get involved if you want to touch the world of shamans and the shamanic journey - perhaps one of the most ancient spiritual systems that has healed and maintained human harmony and their deep connection with the sacred Nature.

Host: Veneta Evtimova
Guest Instructor: Ana Yordanova
Duration: 90 minutes
Price: 15 BGN
Yoga Vibe, Multisport and AndJoy cards apply