Adam Husler with 3 classes at Yoga Vibe Sofia
Practice with him on 30th and 31st of March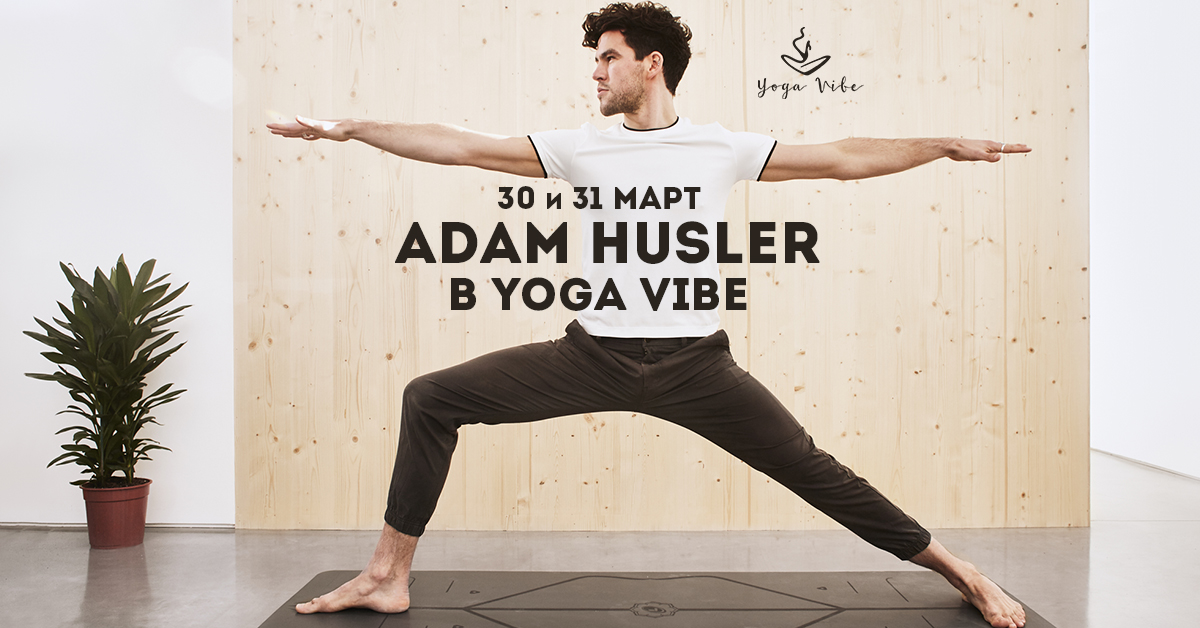 Adam Husler visits Yoga Vibe Sofia for the second time and is going to teach 3 classes on 30th and 31st of March! Deepen your practice with him! Do not miss his three workshops, which will undoubtedly help you understand the movement of the spine, the anatomy of the main asanas, and how to work for a more conscious and deep presence in them.
Vinyasa Masterclass
Saturday, 30th of March 6 p.m.
Yoga Vibe East
35 BGN
Big city living means our yoga classes are often just 60-75min affairs slotted preciously in to our high energy weeks. Savasana sometimes comes as we're just starting to unlock those tight parts of the body. We move from asana to asana without having time to truly; explore the pose, understand the pose, take it deeper or acknowledge the sensations of the body.
The Big One is a long, full vinyasa practice, tackling the whole body, especially those habitually tight bits that we often don't get the time to get deep in to. We'll have luxury of having time to chat about alignment and anatomy of common postures, potentially feeling them in entirely new places, and then also take the opportunity to discover progression routes for the things we might not have the chance to explore in a normal class; float backs, handstands, arm balances. We'll endeavour to become more engaged, attentive, integrated and focused in our asanas.
You'll be free to ask questions throughout and will have plenty of considerations and understandings to take things away to bring to your regular practice. Your downward dog might never be the same!
Though an overarching structure is always there, this workshops varies significantly depending on the students present in the room on that day
'Kung Fu Hips'
Sunday, 31st of March 11:00 a.m.
Yoga Vibe East
35 BGN
Martial artists have got it right, finding that beautiful sweet spot in the legs; perfect balance between flexibility and strength, through incredibly smooth, dynamic movement. Here, we wont be kicking each other in head but we'll be exploring integrated movement, enhanced mobility, dynamic transitions, arm balancing and deep static poses that will challenge all levels of practitioner. Expect a controlled, strong yet fun vinyasa practice that will challenge ego and body!
With a focus on the legs and our hip socket, we'll be developing our understanding over this complex area and how happenings in our knees, ankles and pelvis can affect asanas for better or worse. This sequence will follow Adam's typical accessible, anatomical instruction, but will also feature some movement patterns inspired by Adams backgrounds in martial arts, Budokon yoga and the world of functional movement.
'Twist'n'Lengthen: Back Strengthening and Spine Mobilising'
Sunday, 31st of March, 2:30 p.m.
Yoga Vibe East
35 BGN
When we backbend, we love to collapse in the lower back, squash the neck and roll the eyes back ……because it makes us feel like we're going further. In twists, we love to spin the neck and throw the arm…because it makes us feel like we're going further.
In this workshop we're going to reign things in and begin to find evenness in the backbends, congruence in out twists, and strength in the muscles that are there to move us in these directions. Expect both an experience, but also a development of your understanding of the mechanics of the spine, in relation to an asana practice.
Instead of starting with contortion skills, we'll start from the ground up, breaking down vinyasa and salutation technique, and you'll already begin using muscles you might not have felt before. We'll continue our exploration as work to undulate through individual vertebrae, unlock and strengthen our iPhone hunched upper back/neck and begin to move more dynamically thorough the spine in controlled vinyasa context.
Before we neutralise our spine, in a well deserved vinyasa, we'll have time to put our learning in to practice and look at some deeper asanas like wheel, inverted staff pose, king pigeon, drop backs and full dancers.