Upgrading Sequences and Deconstructing Asanas
15 hours of teacher training with Adam Husler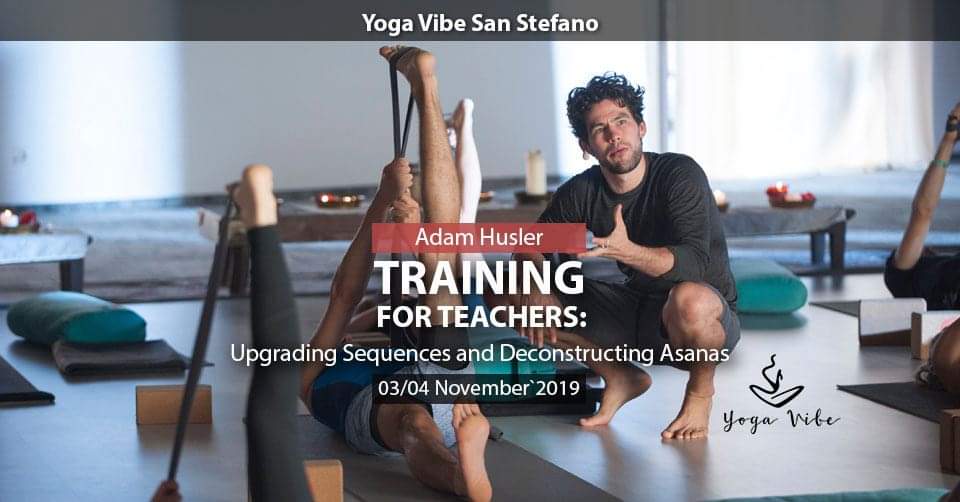 EXCLUSIVE: 15-HOUR TEACHER TRAINING WITH ADAM HUSLER
Upgrading Sequences and Deconstructing Asanas
Accredited by Yoga Alliance
November 3 and 4, 2019 at Yoga Vibe San Stefano Studio
Training for yoga teachers or students who want to deepen their personal practice
Price: 275 BGN
Building the right sequence of postures in structuring a yoga class and Investigating the details of proper posture performance
As yoga trainers or aspiring yogis, we face the daily challenges of refining our precision, better structuring our practice, and motivating and inspiring others to embrace yoga in our lives.
The focus of the day will be developing your skill in creating logical, consistent and effective sequences that will significantly boost the quality of your students experience in the short and long term. As part or this exploration we'll look at various styles of sequences and an arc model that can be applied to all of them. We'll also discover how asanas, their variations and how you cue them, can be best utilised in your chosen direction of travel.
Along with theory and group work, they'll be opportunity for you to move, breathe and sit on the four corners of your mat. There will also be a chance to have open discussion on teaching technique, the business of teaching yoga and life as a yoga teacher.

In training with Adam, along with theory and group work, we will move actively, breathe and have an opportunity for open discussion about teaching techniques, working with yoga and life as a yoga instructor.
The training is designed for yoga teachers and students who want to deepen their personal practice.
To participate in the training, it is necessary to pre-register your attendance and pay the full fee by October 31.
For registration and additional information: tel. 0882375551 and email home@yogavibe.net
Hurry up! The seats are limited!
* The training will be conducted in English.
A special class will be available during Adam`s Training: The Complete Practice - XXL class on November 3rd, 7:15 pm, Yoga Vibe East. The class is free of charge for anyone who has submitted their admission to the Adam Teacher Training on November 3 and 4 - Sequencing & Deconstructing Asanas, for everybody else the price is 35 BGN.