200 hr Yoga Teacher Training with Richard & Shawn
Certified by Yoga Alliance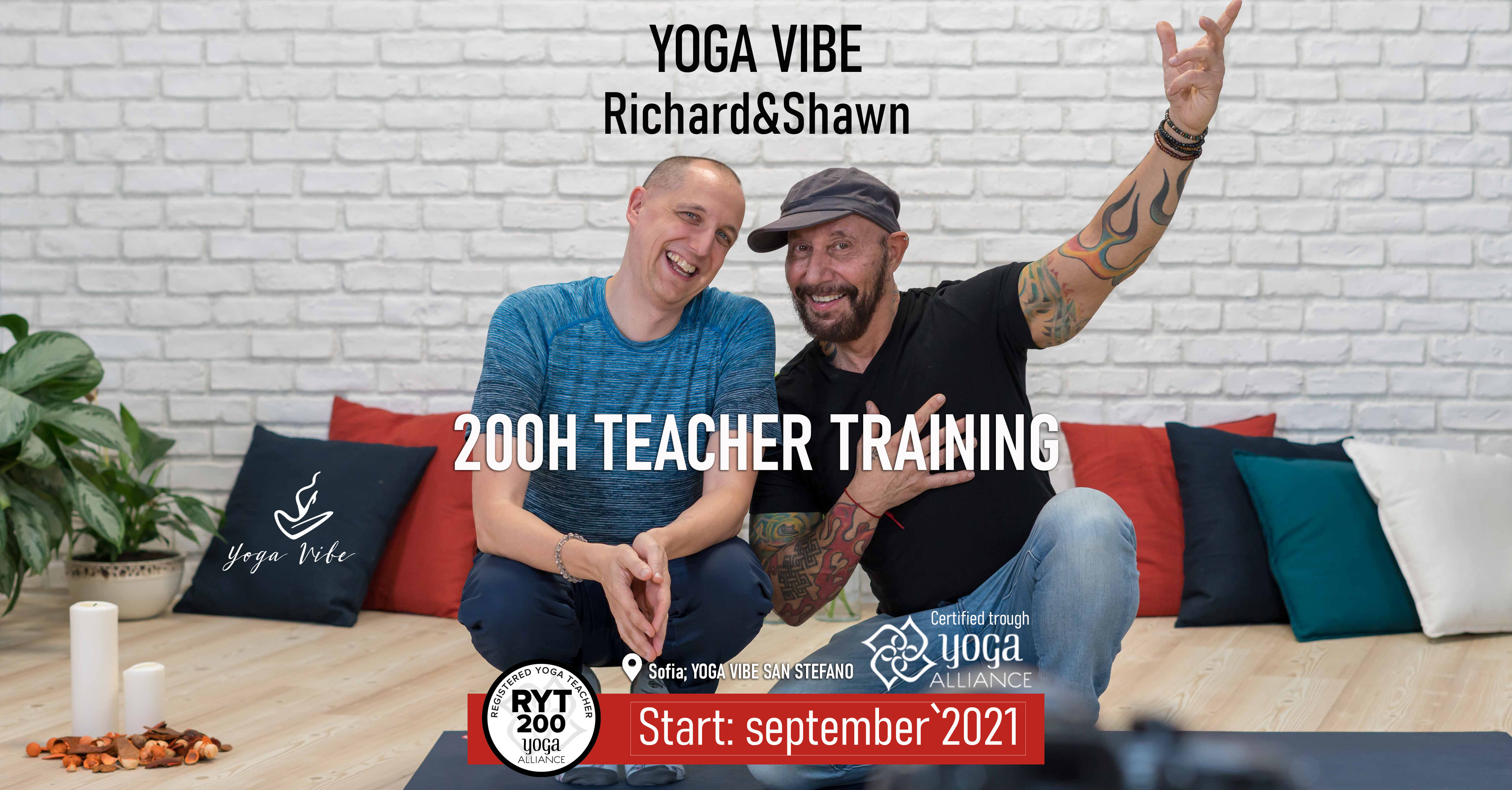 200 hr Yoga Teacher Training with Richard & Shawn
Certified by Yoga Alliance
YOGA VIBE is proud to host the third 200 Hour Yoga Teacher Training certified by Yoga Alliance with Richard Lanza and Shawn Cornelison.
This 200 hour experiential teacher training program has a strong focus on teaching skills.
The training will be in TWO periods:
From September 11 to November 13 2021
From February 5 to March 12 2022
Saturdays & Sundays 9:30-17:30
Bonus: Once a Month Zoom Meeting for Group Discussion / Question & Answer
December and January
* There is a possibility for remote participation, as almost all live sessions will be broadcast online for those who can`t be in the studio.
Fall 2021 Class Dates:
Sat & Sun 11 & 12 September
Sat 18 September
Sun 19 September
Sat October 9
RETREAT: Fri, Sat, Sun 15, 16, 17
Sat October 23
Sat November 6, 13
Winter 2022 Class Dates:
Sat and Sun Feb 5, 6
Sat Feb 12, 19
Sat March 5, 12
The program meets all core Yoga Alliance competencies including:
designing your own Vinyasa or Hatha class for all levels of students
analysis of each posture with a focus on functional movement, alignment and modifications
hands on adjustment techniques
both physical and energetic anatomy and physiology
yoga philosophy, history, mantra, pranayama, and ethics
Upon full completion of this program students will be able to establish themselves as full or part time instructors in a variety of setting. Interested candidates must have at least 6 months of dedicated yoga practice of any style.
Graduates will receive Yoga Teacher Certification through Open Doors Yoga Studios, a registered Yoga Alliance program. Registration also includes a lifetime membership to Open Doors Teacher Training Resource Center, an online library of videos and materials specifically designed for the yoga teacher.
The Teacher Training is designed in a way that you don't have to withdraw from your families and job to become a certified yoga teacher. Although there will be lectures and significant amount of theory, this training is focused on the art of teaching - you will learn how to create your own sequence and how to lead a yoga class.
*Zoom meetings will be held regularly, between the two live modules. Yoga Vibe reserves the right to change the program related to the development of the epidemic situation in the country.
Price for full payment by September 1st 2021: BGN 3,000
Price for full payment after September 1st 2021: BGN 3,500
Deposit of BGN 500 is necessary for booking a space! The deposit is then deducted from the due amount. NOTE: The deposit is NONREFUNDABLE in case the participants opt out.
Payment details:
Yoga Studio OOD
UniCredit Bulbank
BG22UNCR70001524168531
BIC: UNCRBGSF
For registration and additional info - please call 0882375551 or send an email to home@yogavibe.net
Spots will be limited and group will be small!
* Training will be held in English. Additional explanation might be provided in Bulgarian.