300-часово обучение за йога учители с Ричард и Шон
Сертифицирано от Yoga Alliance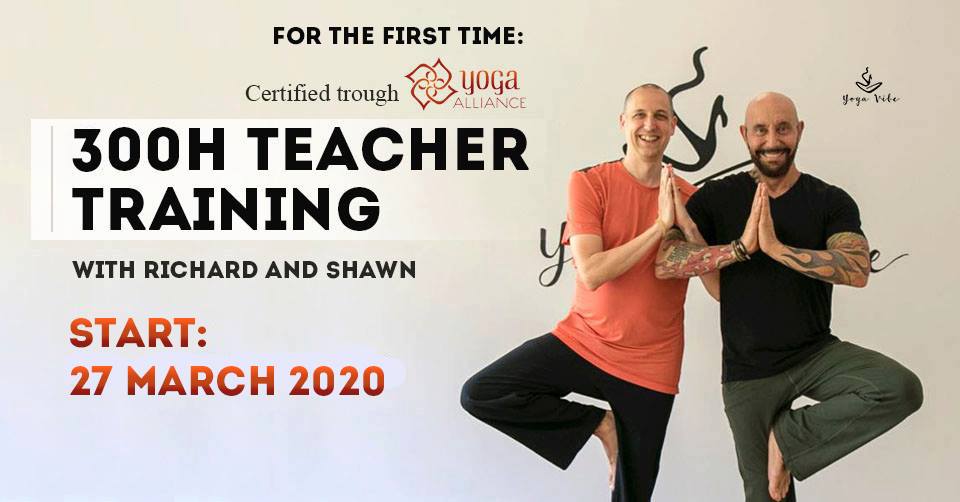 Поради големия интерес, YOGA VIBE организира за ПЪРВИ ПЪТ 300-часов сертификационен курс за учители по йога към най-голямата международна сертифицираща организация Yoga Alliance. Ако искате да задълбочите на съвсем ново ниво личната си практика, да усъвършенствате начина, по който преподавате йога, и да бъдете вдъхновение за околните, този 300-часов йога курс с Ричард и Шон ще ви удовлетвори напълно! Курсът е практически, фокусиран върху преподаването и ще се проведе в три периода: от 28 март до 3 май, от 19 септември до 15 ноември през 2020 г. и от 20 март до 9 май 2021 г. За да се запишете за участие, е необходимо да имате успешно издържано 200-часово обучение за учители по йога към Yoga Alliance. Всички подробности са описани по-долу. Цялото обучение ще се провежда основно на английски език, като допълнителни разяснения ще бъдат правени и на български език.
Transformational Yoga: Your Next Step In Yoga Teacher Training
300 Hour Teacher Training
2020-2021
300 HOUR TEACHER TRAINING
Saturdays & Sundays 9:30-17:30
2020
March 28-29
April 11-12
May 2-3,
September 19-20
October 3-4, 24-25
November 14-15
2021
March 20-21
April 3-4, 17-18,
May 8-9
This program is designed to improve teaching skills and create positive and transformative changes in your life. The first step to growth and change is awareness. This self-discovery program will offer deep and personal exploration into your own body and take you on a journey into self-actualization and self-empowerment. In this journey of personal awareness your skill and authenticity as a yoga instructor will reveal itself.
Yoga Alliance Credited
In addition to classroom hours students will be given a workbook for self-exploration of yoga history and philosophy, as well as self-study in relationship to the yamas and niyamas.
March 28-29, 2020
Healing Nature of Breath & Committing to Personal Intentions
April 11-12, 2020
History of Yoga, Ayurveda, and Self Inquiry into Purpose of Life.
May 2-3, 2020
Hips: Physical, Emotional & Energetic Exploration. How mobility of hips affect one's life..
September 19-20, 2020
Shoulders: Physical, Emotional & Energetic Exploration - How mobility of shoulders affect one's life.
October 3-4, 2020
Teaching Skills, Yoga Nidra, Guided Meditations
October 24-25, 2020
Group Process: Presence, Mindfulness, and Intuitive Development
November 14-15, 2020
Deepening Intuition, energy healing skills, and moving through fear
March 10-21, 2021
Teaching A Transformational Workshop
April 3-4, 2021
Further Development of Teaching Skills
April 17-18, 2021
Next Steps
May 8-9, 2021
Next Steps
The program meets all core Yoga Alliance competencies including:
designing your own Vinyasa or Hatha class for all levels of students
analysis of each posture with a focus on functional movement, alignment and modifications
hands on adjustment techniques
both physical and energetic anatomy and physiology
yoga philosophy, history, mantra, pranayama, and ethics
Upon full completion of this program students will be able to establish themselves as full or part time instructors in a variety of setting. Interested candidates must have at least 6 months of dedicated yoga practice of any style.
Graduates will receive Yoga Teacher Certification through Open Doors Yoga Studios, a registered Yoga Alliance program. Registration also includes a lifetime membership to Open Doors Teacher Training Resource Center, an online library of videos and materials specifically designed for the yoga teacher.
Price for full payment by 1st of March 2020: BGN 3,800
Deposit of BGN 500 is necessary for booking a space! The deposit is then deducted from the due amount. NOTE: The deposit is NONREFUNDABLE in case the participants opt out.
Price for payment after 1st of March 2020: BGN 4,200
Payment details:
ЙОГА ВАЙБ БИЗНЕС ПАРК ООД
IBAN: BG47UNCR70001523860106
BIC: UNCRBGSF
For registration and additional info - please call 0882375551 or send an email to home@yogavibe.net
Spots will be limited and group will be small!
* Training will be held in English. Additional explanation might be provided in Bulgarian.